TRADITIONAL CYPRUS VILLAGE FOOD & WINE
Taste of traditional Mediterranean flavors. The healthy way!
Many of Cyprus' great travel (and living) highlights come from simple, yet authentic aspects. Perhaps no more than in the food and wine. Although such simple food and drink is also widely known to be wholesome and healthiest. Just like Farmakas Living!
As part of the Farmakas Living experience, get to see up close and actually get involved in the way traditional Cypriot food is sourced and prepared; as per the seasons. Be taken/directed to some of the more hidden local places to eat, or simply choose your produce, and have a go at cooking at home!
All Cypriots know that the best food is found in the villages – the freshest, more organic produce, traditional gastronomy, the people and their hospitality. Take the time to taste this is true splendour. See the preparation of balanced meals and spreads, as well as food preservation in pickled in vinegar, sweetened in syrup, or sun dried. Preparation, and then of course eating!
Go on a local village tours, walking through the many local Farmakas vineyards, and see the production and produce of our local wine. See how traditional Cyprus village wine is made and drunk; see the process, taste the results. Also see the making of some of the bi-products of wine, such as Zivania (straight of flavoured liquor), sultanas, palouze, and Shoushouko. Best time is during the wine harvest, just after summer.
Other special times for food growing and production in the village of Farmakas include:
June through to October – tomatoes and related bi-products, such as pasta, sauce, sun dried tomatoes
September – Grape harvest and the making all related traditional delicacies
September and October – walnuts, almonds, figs and the many products made from these, such as sweets, paste, dried
Almost all year – making of hamoumi cheese, cold cuts (traditional loukaniko sausage, lounza, pastourma)
Frequently used ingredients in Cypriot cuisine
In Cyprus, the magical Mediterranean sun and mineral rich soil produces taste to food products nowhere else achieved. How often do fruit and vegetables in cooler countries have little or no taste – no doubt, produce imported from far away locations are picked semi ripped to travel over the seas. If a fruit or vegetable is not given the opportunity to ripen, it surely lacks nutrients, colour, and flavour.
Mediterranean cuisine is all about the seasonal, full flavoured produce. So many native to Cyprus.
Fruit and vegetables: tomatoes, aubergine, cucumbers, zucchinis (and zucchini flowers), pumpkins, okra, long green beans, broad beans, okra, artichokes, garlic, onions, olives,   lemons, grapefruits, oranges, mandarins, grapes and vine leaves, watermelons, peaches, figs, prickly pears, nectarines, berries, pears and apples, and now the island's infamous and exclusive potatoes (exported as a premium product internationally).
Nuts and legumes: walnuts, almonds, chestnuts, pistachio, chestnuts, all sorts of lentils, chickpeas, black-eyed peas, beans, giant beans, broad beans, among many other.
Herbs & Spices: most commonly used for flavour and aroma include sea salt, pepper, parsley, coriander, oregano, mint, arugula, celery, tyme, oregano, cumin (artisha), and shinous (wild Med peppercorn).
Other interesting food: Carob, bulgar, trahanas (blend of wheat and yogurt), yogurt, multiple kaleidoscope of dips, infamous haloumi cheese, breads, mahalebi (rice flower and water pudding, splashed with rose water and rose concentrate), Zalatina (you don't want to know what it is), Turkish coffee, and the hundreds of pastries, such cheese pies, paklava, kataifi, galatopoureko. And don't ever forget the traditional Cypriot souvlakia and sheftalies, as well as so many of dishes and mezedes.
All starting to sound familiar…? That's right, it's pretty much all the ingredients and food any good nutritionist would advise for a healthy diet. In Cyprus, we eat them daily.
Publications / Additional Material
Traditional elegance under the powerful mountain
This suite offers the perfect way to experience Farmakas and the mountains of Cyprus for families and small groups – a perfect balance of luxury and comfort accommodation, together with traditional look and feel. This 2 bedroom suite has 2 double beds, courtyard access, private balcony looking out to Laxia Mountain, lounge/sitting area, fully equipped kitchen, Jacuzzi bath and is fully air-conditioned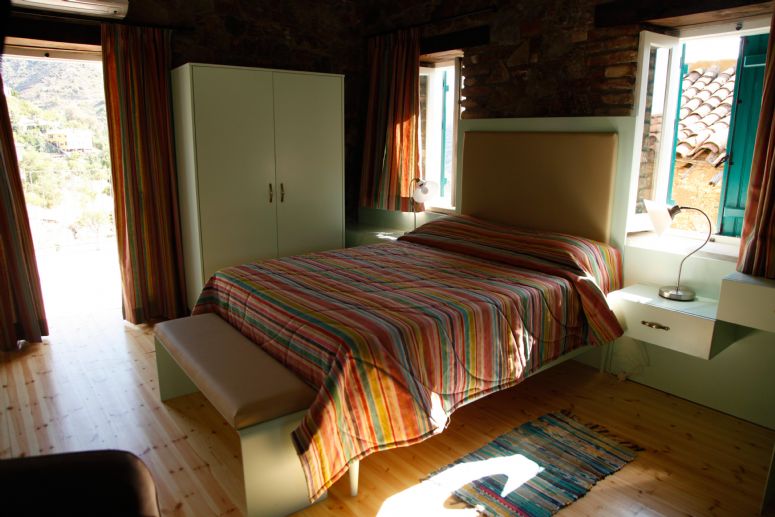 Year-round scent & style in Farmakas village
Simple luxury accommodation means waking up each morning and going to sleep with the scent of traditional Cyprus village herbs and fresh air. This 1 bedroom deluxe garden room has a double bed, sofa bed, small lounge, fully equipped kitchen, private balcony, and Jacuzzi shower. Great for couples and sole travellers on an agrotourism or holiday escape mission