RELAXING AT A MOUNTAIN ESCAPE
Enjoy the stillness, silence and serenity
The highland region of Cyprus offer the ideal escape from the summer heat in the rest of Cyprus, or busy city and working life. A mountain village, where time has a completely different meaning, and where nature truly takes over.
No better way to unwind than to retreat. And retreat up into the mountains.
Farmakas and the wider Troodos mountain region of Cyprus offer ideal climatic conditions, geography and general environment for taking some time to relax. From more refreshing summer seasons in Cyprus, blooming spring times, adventurous autumn days, to cosy snowy winters.
Take in some nature, history, culture, adventure, or simply some time to yourselves to soak in the clean air, vast nature, and slow pace of life. This is Farmakas living every day.
Some relaxing activities might include:
– Easy going walks or cycles through nature
– Bird watching
– Historical and cultural sites
– Religious and spiritual
– Yoga and meditation
– Local gardening and agricultural
– Art and craft; with locals or on your own (writing, painting, photography)
– Sitting at a cafe and meeting locals
– Touring the wineries and of course drinking the wine,
– and even working (yeap!). Taking some time away from the office to go up to the mountains and work can be a great way to work at your own pace and be creatively inspired.
Overall, mountain type of relaxation can also be considered as recuperation, or even rehabilitation. Many doctors might advise of slow, calm recovery, with plenty of relaxation time, nice climate and healthy diet for healing better, as well as other suggested activities by your doctors. Mountain village lifestyle such as in Farmakas can  indeed offer this environment. Furthermore, Cyprus is also growing in reputation as a medical tourism destination, as it is widely considered to offer the ideal rehabilitation setting, together with advance medical facilities and services.
Of course you must always consult your doctor about what surroundings are practices are ideal for your particular condition, and then compare and see.
But of course the best medicine is preventive medicine. So do try to take some time from busy, more unhealthy routine living in the city, to enjoy nature, peace, and relaxation. Your body and mind will thank you for it for many years to come!
Publications / Additional Material
Farmakas Living offers traditional Agro tourism accommodation with a touch of luxury; family units and suites perfect for couples and sole travellers. All come fully equipped for your stay and can be serviced daily. Also available throughout the village are fully furnished and serviced homestead options and units, for families, large and small groups, and couples.
Traditional elegance under the powerful mountain
This suite offers the perfect way to experience Farmakas and the mountains of Cyprus for families and small groups – a perfect balance of luxury and comfort accommodation, together with traditional look and feel. This 2 bedroom suite has 2 double beds, courtyard access, private balcony looking out to Laxia Mountain, lounge/sitting area, fully equipped kitchen, Jacuzzi bath and is fully air-conditioned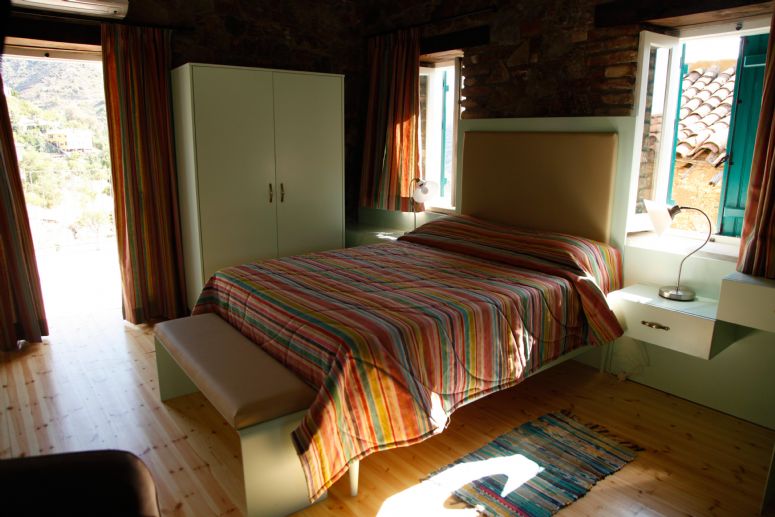 Year-round scent & style in Farmakas village
Simple luxury accommodation means waking up each morning and going to sleep with the scent of traditional Cyprus village herbs and fresh air. This 1 bedroom deluxe garden room has a double bed, sofa bed, small lounge, fully equipped kitchen, private balcony, and Jacuzzi shower. Great for couples and sole travellers on an agrotourism or holiday escape mission