Sightseeing, history & cultural experiences
Each corner of the island offers something mystic yet real
Cyprus is unique in that its history and culture spans thousands of years, settled during the Palaeolithic period, and crosses many different ancient civilisations. Sites that depict the past, in a simple, yet charming manner. Sites that can be easily reached in short time and distance.
Cyprus is tucked away in the Eastern Mediterranean corner, where Western Civilisation first flourished. Its reach to major historical hubs created long, strong ties with other nation-states since Antiquity, and which have continued for centuries.
Places such as Mesopotamia, Mycenaean Greece, Ancient Egypt, Hittite, Assyrian, Persia, Hellenism, and Rome all touched Cyprus, establishing all sorts of communication channels. Later, Christianity, the Byzantines, and passing crusaders and merchants; Frankish/Lusignan, Genoese, Venetians, the English, and Ottoman Empire. In more modern times, the British Empire, and now the European Union.
No doubt, such connections and encounters have left their mark and influence on society; physically and spiritually. In today's modern society, this translates to imbedded diversity within the people and culture, as well as of course vast relics; in the sea, on the coast, through the villages, cities, and in the mountain region. Each offers its own piece of history, its own impressions, and its own story. From UNESCO World Heritage sites, to local hidden secrets.
Farmakas is a fantastic location to truly take in the island's rich culture and history. Stay in the village, traditionally, and enjoy the real experience like a local. Easy to see the many historical, religious and cultural sites close by throughout the mountain regions, such as Machairas monastery, Fikardou, Lefkara, Kykkos monastery, as well as close-enough to Cyprus' coastal aspects.
Get involved in traditional village horticulture, religious events and ceremonies, celebrations, or simply visit some of the more picturesque and charming sites throughout the interior and wider region. Farmakas Living can provide bespoke itineraries to some of these places, or offer advice, direction and assistance for those preferring to do it alone. Indeed, hitting the road and exploring is one of Cyprus greatest tourism assets – proximity, with so many options within relatively easy reach (in some cases, closer than you actually took to get to your airport!).
Publications / Additional Material
Traditional elegance under the powerful mountain
This suite offers the perfect way to experience Farmakas and the mountains of Cyprus for families and small groups – a perfect balance of luxury and comfort accommodation, together with traditional look and feel. This 2 bedroom suite has 2 queen-sized beds, courtyard access, private balcony looking out to Laxia Mountain, lounge/sitting area, fully equipped kitchen, Jacuzzi bath and is fully air-conditioned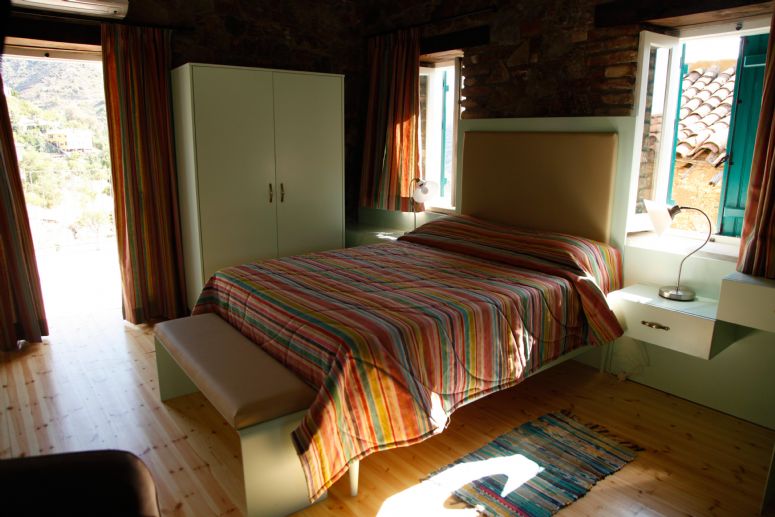 Year-round scent & style in Farmakas village
Simple luxury accommodation means waking up each morning and going to sleep with the scent of traditional Cyprus village herbs and fresh air. This 1 bedroom deluxe garden room has a double bed, sofa bed, small lounge, fully equipped kitchen, private balcony, and Jacuzzi shower. Great for couples and sole travellers on an agrotourism or holiday escape mission