ADVENTURE TRAVEL, ACTIVITIES, TOURS & EVENTS
Take on more action during some of your stay
Farmakas is quite centrally located in Cyprus. So you can spend your time in a traditional village, just like a local, but still easily travel to other parts of the island and take on more adventure. Or enjoy one of the many local traditional events and parties.
Local Traditional Events
During your stay in Farmakas, you might be lucky enough to witness and join in on a local traditional event. The village operates as normal, with functions and parties year-round. From the infamous annual Tomato festival in October, to local weddings, school and community events, Greek Orthodox Easter month, and many other cultural celebrations.
There is no better way to truly experience local village traditions and hospitality than with one of these events. Farmakas Living welcomes you.
Adventure, Activities and tours
Cyprus' great advantage as a travel destination is that it has vast diversity within close proximity. This means, the rest of the island is easily accessible during your stay in Farmakas. From other specialised agrotourism activities at various parts of the island, sun and beach, water sport activities, to city entertainment, shopping and night outs. Our island is open and very welcomed to being explored!
Indeed, renting a car and hitting the road is an adventure in itself. All tourist sites in Cyprus are clearly marked along the roads (those in brown signs), allowing you to travel at your own pace, site-to-site, and spending more time at those you enjoy most. At the end of your stay in Cyprus, you will be well satisfied that you have taken in a lot during your visit, as well as plenty of time to just unwind and relax.
Farmakas Living can help organise private tours for small to medium groups to nearby attractions – to see some of the more hidden locations and scenery of the area, as well as those slightly further out. Or simply do it on your own accord. Its easy and fun.
Indeed, there are many adventures one can embark on in the mountain region of Cyprus, with activities for all, and all year-round; recreational activities, adventure, sports and more. For instance 4×4 off-the-beaten-track adventure trips, close by to the village and throughout much of the Troodos mountain range, dirt and quad bikes, mountain biking, hiking, climbing, geological expeditions, hand gliding, golf, as well as of course host of water sports not too far away (sailing, wind surfing, stand up paddle, kite surfing and more).
March-June, October-December is the ideal period for such activities in Cyprus, unless of course you are seeking snow-winter type activities, then January and February is best.
Traditional elegance under the powerful mountain
This suite offers the perfect way to experience Farmakas and the mountains of Cyprus for families and small groups – a perfect balance of luxury and comfort accommodation, together with traditional look and feel. This 2 bedroom suite has 2 double beds, courtyard access, private balcony looking out to Laxia Mountain, lounge/sitting area, fully equipped kitchen, Jacuzzi bath and is fully air-conditioned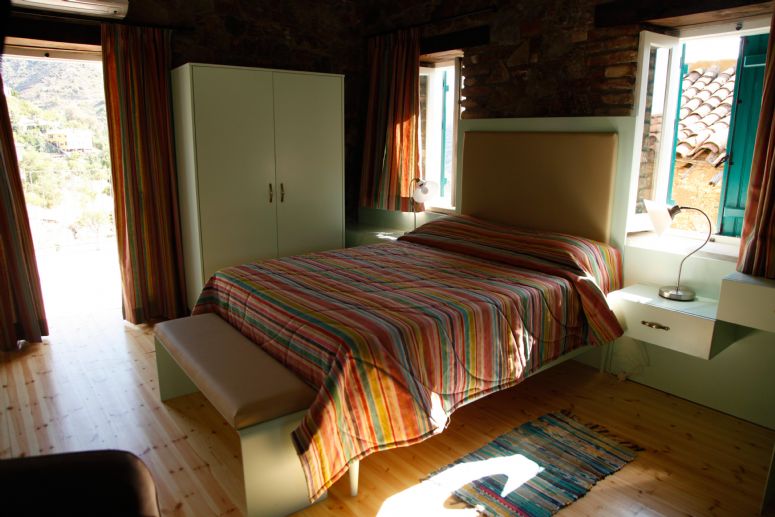 Year-round scent & style in Farmakas village
Simple luxury accommodation means waking up each morning and going to sleep with the scent of traditional Cyprus village herbs and fresh air. This 1 bedroom deluxe garden room has a double bed, sofa bed, small lounge, fully equipped kitchen, private balcony, and Jacuzzi shower. Great for couples and sole travellers on an agrotourism or holiday escape mission